Kale Logistics Solutions Celebrates the signing-up of the100th Airport Cargo Station to deliver digital transformation at GMR Cargo, Hyderabad
Kale celebrates this milestone at the Air Cargo India 2022 event in India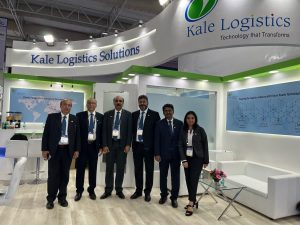 Mumbai, India, Tuesday 31st May 2022: Kale Logistics Solutions (Kale), trusted IT partner to the global logistics industry, announced in a media briefing at Air Cargo India 2022 that it is celebrating the signing-up of digital platform for the 100th Airport cargo station with GMR Cargo Hyderabad International Airport (GHIAL). Kale will be transforming the air cargo processes at GHIAL with a unique air cargo solution that is a combination of its flagship Cargo Community System and Cargo Management System – GALAXY. The solution encompasses courier, international and domestic cargo operations for the Airport.
Kale has been a pioneer in designing and implementing air cargo tech solutions for the last 11 years. These solutions connect over 3000+ cargo agents, 125+ airlines, processing over 3 million+ annual payments and exchanging 10 million+ EDI messages globally. With around 85 percent of India's air cargo running on Kale's systems, it commands a leadership position in the global logistics industry.
Kale's Cargo Community Systems have received several global accolades including awards at the  United Nations award-winning cloud-based electronic platform for all stakeholders of the air cargo value chain to interact with each other digitally. Kale's Air cargo community platform is one of the most comprehensive system, which connects the airport ecosystem to simplify, standardize and modernize connectivity as well as information flow throughout the value chain.
It seamlessly connects Airport, Cargo Ground Handlers, Transporters, Freight Forwarders, Customs Brokers, Airlines, Importer/Exporters and Customs on a common highly secured cloud-based IT platform. The system is targeted towards promoting paperless trade and ease of doing business.
Amar More, Co-Founder and Director, Kale Logistics Solutions said, "We are very proud to have been associated with 100 air cargo stations globally. With our portfolio of industry-leading IT solutions for Airports and the allied community we look forward to help the industry thrive in an increasingly digital-first world.
Speaking on the occasion, Vineet Malhotra, Co-Founder and Director said, "Leveraging the cutting-edge technologies we aim to set high operational benchmarks for global Air Cargo Industry. This being our 100th Airport cargo station that too in yet another major airport in India, we are delighted to celebrate this at the most happening event of the year i.e., Air Cargo India 2022 at Grand Hyatt, Mumbai and that too in the midst of industry stalwarts from across the world."
Post the media briefing, an official celebration took place at Kale's booth – B 128 at Air Cargo India 2022 organized by Messe Muenchen . Media friends and industry delegates across the world actively participated in the event.